There's no exact science to responding to clients (every gig request is different). However, here at GigMasters, we see thousands of messages sent to clients every day. So, we'd like to share some strategies that have proven to help vendors get booked!
Recently, we came across a quote response similar to this one:
We can do better than that, right? These are important life events for your clients, so be sure to carefully craft your responses for each one to prove that you will provide them with a special experience.
Here are some simple ways to customize your message to get clients to respond to you:
Make it personal: Address the client by first name.

Show excitement: Keep the tone of your message upbeat and celebratory.

Be professional: Use spell check and don't write in ALL CAPS.

Provide next steps: Encourage them to contact you any time.

Be human: Include your name in the signature, not just your profile name or company.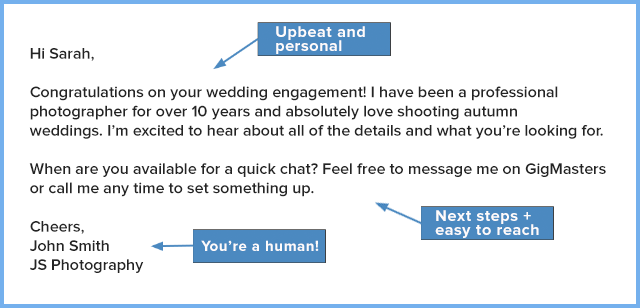 OK now we're getting somewhere! The above is a pretty standard "short and sweet" way to respond. But I know some vendors like to provide more info, such as different pricing levels, longer profile descriptions, etc. That works too!
The Personal Touch
Here's another approach below. This message offers more personality and better relates to the client's specific request (in this case, a musical performance).
Hi Sarah!
Thank you so much for the interest in having me play for you and your guests on November 15th. I would love to have the opportunity to put together a great evening of music for you. It's been a busy summer of private parties for me, and I've been playing a wide variety of music that my clients have been enjoying.
I'm rated highly on GigMasters so you can rest assured that, should you choose to hire me, you're getting one of the most experienced musicians in the area. Please feel free to contact me any time if you have any questions before you make a final decision.
Thank you again for your consideration. I very much look forward to hearing from you!
Cheers,
Jonh Smith
The Package Deal
Offering package deals is another professional way to sell your services. We know that pricing can be complicated, however, we recommend that you quote with a base rate (at least) and never leave your quote blank.
Sometimes vendors say, "Call me to discuss my rate." That may work if you're the only one requested, but when you're competing with other vendors (which is most of the time) don't risk it! Here's an example of quote message with different offers:
Hi Sarah,
Thank you for the request! NYC Entertainment is available for your wedding on March 18th. The quote provided is for our base rate for all DJ services and sound system.
Package A: DJ Services and Sound System ($X)
Package B: DJ Services and Sound System + Stage Lighting ($X)
Please feel free to give me a buzz (email, call, text) anytime to discuss any questions you may have over any of the information provided in this quote. Also, feel free to check out the media section of our GigMasters page, which includes videos and testimonials. We look forward to hearing from you!
Cheers,
John Smith
NYC Entertainment
Remember!
1 in 3 bookings go to the vendor that responds first! So make sure you submit your quote as soon as you can (create Saved Responses!). And, as a member in good standing, please make sure you report all GigMasters bookings so we can keep sending more leads your way.
I hope this inspires you to craft your own unique style. If you have any advice or examples to share, please comment below.