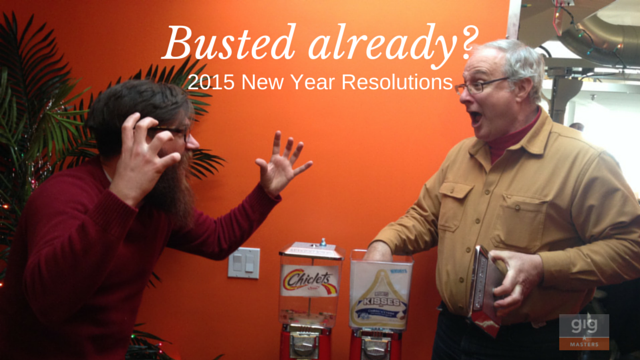 More gym, less carbs...it must be a new year! Instead of the usual resolutions, this year we set professional (and not so professonal) intentions - resolving to make 2015 GigMasters' best year yet. Here's what our staff had to say.
"Rather than focus on the past (something accountant types focus the most on), look forward and create action items that promote well-being for Team GigMasters, myself and my family. Action Item 1 - no more visits to the candy store (machine)." -- Jack, Finance
"This may sound hippy-dippy, but this year I would like to be more present and not on my iPhone every second. I'm intrigued with mindfulness meditation practice, which focuses on being in the moment and not stressing about the past / future. Also, I promise to work out more this year too, of course!" Peter, Marketing
"Follow through on great ideas and bring more ideas to life, instead of keeping them prisoner on my phone. Also, act on generous impulses. We always have those thoughts "I should donate this" or "I could help this charity"...but it's rare we actually get to act on them once life gets in the way. This year I resolve to act on those thoughts more often and make a difference for someone - event with the smallest actions." -- Terri, Editorial
"Invest more into my personal art and try to be published at least in a few zines in Tampa, and maybe compile my own list of "best of" for my poetry so I can be self published. Also, my wife got into baking a lot, so I need to hit the gym hard." -- Colby, Account Services
"More frequently contribute to open source projects." -- Justin, Technology
"Visit Mom often. Drink water. Take bubble baths. Get out of the office. Make faster work decisions. Make slower personal decisions. Run." -- Kevin, Co-Founder
"Schedule time to further educate myself on writing copy that is fun, impactful and works for the web." --Nicole, Communications
"Be more vocal about my ideas at work and get to know more people within other departments to build networking opportunities as well as maintain good work relationships!" -- Katie, Account Services
What are your resolutions? Share them with us. Did you know the more times you say them and write them down, the more likely you will keep them? Don't get BUSTED!
If you're resolving to grow your business in 2015, make sure you join GigMasters today!